Hey Guys! I love BOL and started listening on the Pancakes or Waffles episode. I hope to start contributing more to the show with some helpful info or a "well actually".
I am interested in Photography , Graphic Design (as you can see form the logos), computers and more.
On The Web
Edit
Involvement with Buzz Out Loud
Edit
Hey TMJ
During the 2008 Macworld Keynote Steve Jobs announced that movie rentals were coming to the U.S. iTunes store, and it got me thinking. How come the U.S. is getting movie rentals when Australia, New Zealand and other countries don't even have TV shows or Movie Purchases yet!? Our iPod games are always late and we have to wait an extra year for the iPhone. The prices on our iPods and Macs are all higher than in the U.S. and we don't have any apple stores! Is there a reason for this or does apple not care about countries in the Asia pacific? Maybe if they started making their presence known they would have more sales here. Just Making a point.
Love the podcast Jacob the Student from Australia
Logo Designs For Buzz Out Loud
Edit
| | | | | | |
| --- | --- | --- | --- | --- | --- |
| Winner Logo Contest (In use now!) | Mock Y! live logo | Mock Y! live logo with Time | Entrant in Logo Contest | Used on CES Page | Mock USTREAM.TV logo |
Certificate in Buzzology
Edit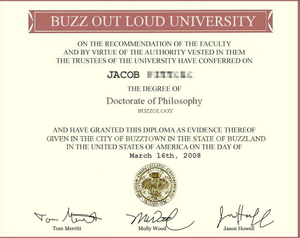 External links
Edit
Ad blocker interference detected!
Wikia is a free-to-use site that makes money from advertising. We have a modified experience for viewers using ad blockers

Wikia is not accessible if you've made further modifications. Remove the custom ad blocker rule(s) and the page will load as expected.