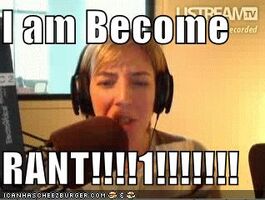 A rant is form of monologue that tends to involve a strong negative emotion. Molly Wood is known for her rants during episodes of Buzz Out Loud. However, all BOL cast members (with the exception of Jason Howell) have ranted at least once in the history of the show. (Tom Merritt's rant on Amazon Unbox was likely his best known rant on the show). Molly is notable simply for the length, intensity, and emotion displayed in her rants. Common rant topics include DRM, network neutrality, the RIAA, MPAA, and privacy.
Significant Rants
Edit
To find more recent rants go to www.mollyrants.org Here is the direct link to the Molly Rants RSS feed.
Ad blocker interference detected!
Wikia is a free-to-use site that makes money from advertising. We have a modified experience for viewers using ad blockers

Wikia is not accessible if you've made further modifications. Remove the custom ad blocker rule(s) and the page will load as expected.